OR..... Welcome to the BIZARRO land known as Red Sox Nation!!!
As I sit here contemplating how to "pen" a brief recap of last night's contest, I can NOT help but wonder if someone .... uh, EVERYONE on the team read yesterday's post...
or perhaps they thought they were here**....
... instead of here...
playing the Blue Jays.
**
The new

BIZARRO

ride at Six Flags New England... it's the old Superman on steroids... check it out
Anyway, recapping all the action would take as long as the game itself... probably longer, the way I type..
The only "Beckett was BRILLIANT" or "Paps was PERFECT" references you will find are the ones you just read. That just wasn't so in a single game that eerily summed up a
Sox
fan's lifetime in 3-1/2
LOOOOOONG
and gut-wrenching hours.... FINALLY winning 10-9
NO SIRREE !!! Instead, you'll read.... Beckett gets "bombed" ... uh, by big flies... not big brews (THAT would have been I !!!) .... and Paps pitches palpitations to the people of the Nation...
Anyway, with Beckett on the bump... the game was in the bag, right ???? UH, WRONG !!! Josh just didn't have his best stuff...
hmmm
... maybe he DID hit the beer shack before the ballgame...
Tek
was
scatched
(uh, from the game)..... NOT to "connect" Beckett's performance with the Captain on the shelf but....
Nuf
Ced
But "Uh Oh
Oki
" was AGAIN "
Oki
Doki
" !!!! and eventually picked up the win.... dare I change my stance here ?!?!?! NOT YET !!!!!! Daniel Bard picked up a "hold" despite giving up 2 runs (thank PAPS for THAT Danny Boy !!!) and Paps.... oh Paps.... you're going to give coronaries to an entire Nation, dude.... and for the record... "It WAS a save opportunity when you entered the game, bro !!!!"
Followers know my feelings here and Jon continues to confirm my "fears".... slowly "dieing" I can only foresee
DL
or an early "shutdown" here....
somethings
just not right. I thought the
Sox
had the best arm conditioning program in
MLB
... although, Penny continues to tarnish that theory...
Nuf
Ced
Thankfully, the bat bag made the trip to Toronto although
Pedey
didn't - well, he DID but had to leave (more in a bit)... ALSO, making the trip was YOUKAH !!!!!! nice to have ya back killah... maybe we'll see a "drop toe hold" or a "flying body press" soon, huh...HUH....
HUH
?!?!?
The bats banged out 12 hits - the LOUDEST (literally) was when JBAY served 109 red stitches to the patrons "relaxing" in the right field restaurant.... surely they were praising the power of the plexi-glass.... "I hear yah knocking, but you can't come in !!" HA, I wonder how many ran to the restroom after THAT !!! Nuf Ced
Also DINGing the dinner bell was BIG Papi (AND a 2-run double).... check me if I'm wrong... since blasting his "faithful" Boston media (hint, hint) Papi has been blasting baseballs better than before... way to go Big Guy !!!! Feel free to "review" Italian sports cars ANYTIME !!!!!
Also with 2 hits each were V-Mart... STILL a great pick-up (uh, thanks for "scratching" Tek ???).... and Jacoby... whom also had 2 sac flies, joining Papi in a 3-rbi night.... every other member in the line-up had at least one hit, with GONZO also TRYING a bit of small ball... laying down a would be sacrifice bunt that was "eloquently" fielded by the Toronto pitcher who then tossed it high and inside to 1st, for an error...producing a run... or a run-producing error... Either way, a HUGE play as that was the go-ahead run and it helped the Sox score 2 more to take a 10-7 lead !!!! (a lead which they...uh, Paps...nearly "threw" away 1/2 inning later) Nuf Ced
More News.... There's a new "papi"... uh, papa in town... and his name is Dustin Pedroia !!!! Way to go !!!! Pedey had to miss the game to rush home to have a baby (I told you, DeCAF !!!).... well, you know, Kelli actually had him.... sooooooo... Way to go KEL !!!!!!!!!
Anyway, "Welcome to Red Sox Nation, Dillon Pedroia !!! I hope YOU like roller coasters too !!!!" I wonder if naming him Michael Vick Pedroia every crossed their minds.... before you stick your finger down your throat at that reference... read the initials... either way... ANOTHER MVP is born ??? NUF CED
On a side note.... have I ever mentioned how much I like Twinkies ?!?!?! NOOOOOOO.... not THESE......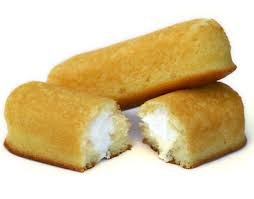 THEEEEEEEEESE !!!! ... although, suddenly I need a snack....!!!!!
Uhhhhhhhhhhhhhhh, Twins Territory ????? Must be some hole in the "bowels" of Red Sox Nation !!!! NUF CED
Anyway, the Twins rallied from 5 runs down to over-power the Rangers, 9-6.... SO ?!?!?!? SOOOOOO.... Our boys are now even with the Rangers for a play-off spot !!!!!!
BUCHle your seat belts boys and girls !!!!!!!!! Buchholz is on the bump tonight.... WTF Tito !!! throwing this kid against the "Doc" AGAIN !?!?!? They MUST be TESTIng Clay's testicular fortitude..... poor Buchy... my poor heart.........
Stay tuned.... Brett Favre signs with Duncan Toys !!.... or, the Vikings (gag gag).
As ALWAYS... it's been real... it's been fun... AND it really has been a lot of fun !!
-NUF CED.... or.... perhaps too much