Patriots Bury The Titans in the Foxborough Snow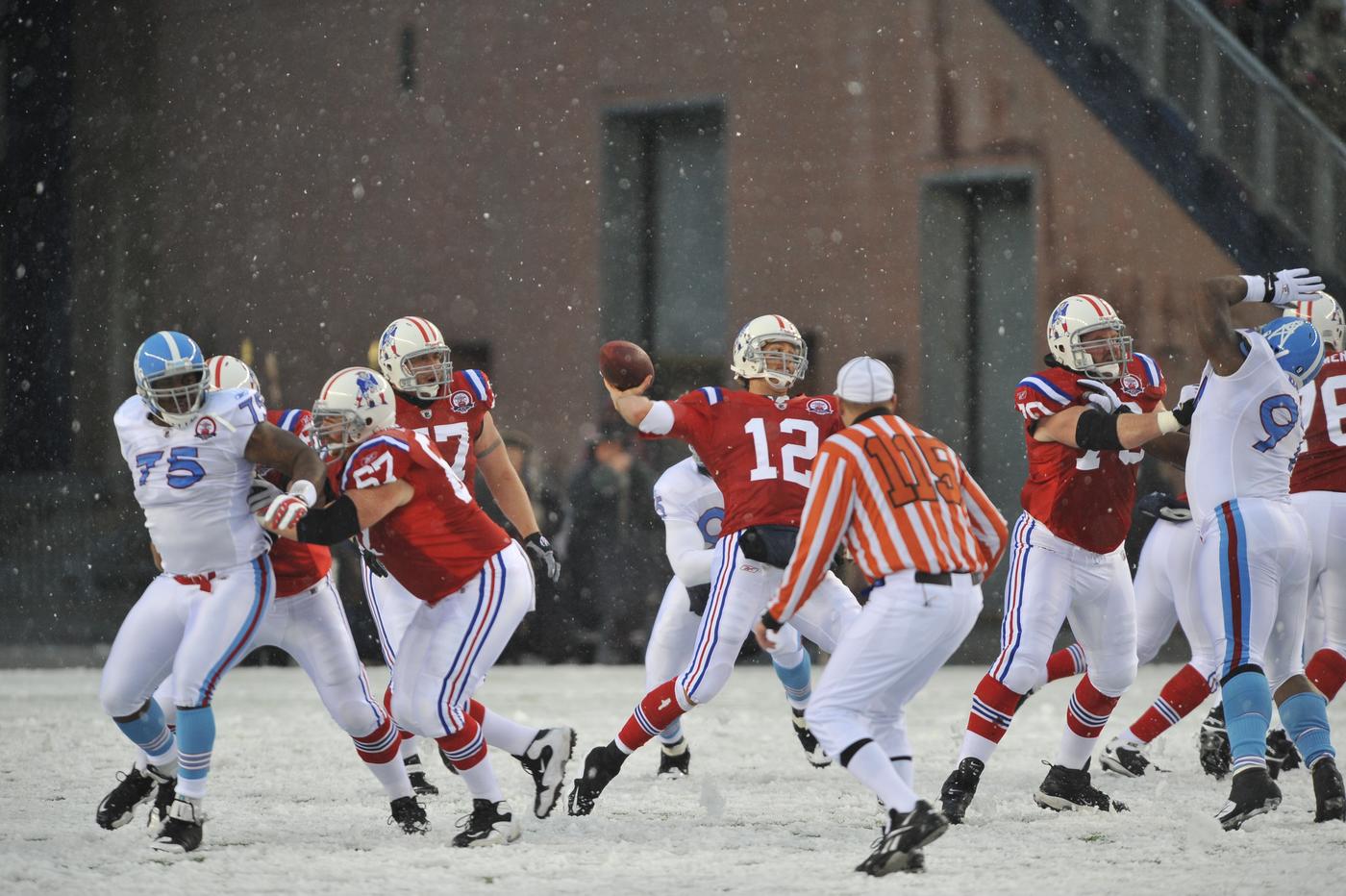 Well, well, well.... I was going to post a review of yesterday's Patriots game yesterday but am glad I didn't. Although the waiting is the hardest part (TOM PETTY !!!), sleeping on this historic day in Foxborough may, and I repeat MAY, have given me the opportunity to formulate a "different" post - and that's why you all read right???
True that I haven't written about the folks from Foxborough often this year, but that doesn't mean I haven't been following.. EXCEPT for the [frigging] week that FOX decided it was more important to show their Connecticut audience a NY (NJ?)Jets game - good thing CBS has more brains !!!!!
Anyway, I won't rant and rave about the historical nature of yesterday's "contest" as outlined below are the milestones the Patriots achieved.... but rest assured this post won't go rantless as my "mission" here is to bring things more into perspective - hmmmmmmm...
I've been up for an hour and have already read several reports of, "Brady is back!", "Brady plays his best game of the season" and "THIS is the history-making Brady that we all know".... STEP THE [FREAK] RIGHT BACK !!!!!!! (perspective time).
Brady did indeed have a great game yesterday... well, a great 1 half and 1 drive of a game... and being taken out after tossing his 6th TD pass most likely prohibited Tom from having the greatest game by a quarterback in NFL history !!! I agree with Coach Belichick's decision to not risk an injury ANOTHER injury in a game that was decided after the opening drive.
Brady's final stats yesterday were 29/34 for 380 yards, 6 TDs and no interceptions... a QB rating of slightly under perfect at 152.8... EXCELLENT stats at that... especially considering he was pulled after 1 drive in the second half..
BUUUUUUUUUUUT, if you think that I think that what the "experts" think is true.... YOU'VE GOT ANOTHER THING COMING !!! (Judas Priest), and I offer my review from game 1 of the season against the Bills... Tom's stats that week... 39/53 for 378 yards, 2 TDs and 1 interception... QB rating of 97.8
THAT is the day Brady was back !!!! THAT is the Brady's best game of the season (to date)...
But wait !!! Brady's stats were better yesterday !!! Have I flipped my lid ??? UHHHHHHHH.. perhaps, but in this case I think not. But how can I say September 14 against the Bills was Brady's best game??
"Simply" put.... BECAUSE IT WAS !!! On 9/14, the Patriots were losing the game with 6 minutes to play - yesterday they won the game in the opening drive.... On 9/14, Tom Brady commandeered his 29th career come-from-behind victory - yesterday he was removed in a one-sided contest.... on 9/14 the Patriots NEEDED Brady's arm, only mustering 73 yards rushing - yesterday the ground attack could have won the game (actually they did as the first TD was a 45-yard run by Lawrence Maroney), totaling 193 yards.... on 9/14 the Patriots defense only caused 1 turnover - yesterday they took the ball away 5 times.... on 9/14 the Patriots were playing a quality NFL football team - yesterday they were playing 0-5 (now 0-6) "Pop Warner" rejects....
So yes, yesterday was a great game to watch as a Patriots fan... and although Coach Belichick will always find something to work on, the Pats simply dominated the Titans offensively and defensively. The Titans completed only 2 passes for a TOTAL of -7 yards... AND they couldn't even stop Patriots back-up QB, a free agent rookie, Brian Hoyer, who was 9/11 himself - and even rushed for a score.
Team records set by the Patriots
Most points in a game (59)
Most points in a half (45 in the first half)
Most points in a quarter (35 in second quarter)
Most total net yards in a game (619)
Most passing net yards in a game (426, tie)
Most touchdowns in a game (8, tie)
Most passing yards in a half (Tom Brady, 345)
Most passing touchdowns in a half (Tom Brady, 5 in first half)
Most passing touchdowns in a game (Tom Brady, tie, 6)
NFL records set by the Patriots
Most touchdown passes in a quarter (Tom Brady, 5 in the second quarter)
Largest halftime lead (45 points, 45-0)
Other milestones achieved by the Patriots
The Patriots' 59-0 win ties the largest shutout victory by an NFL team since the 1970

AFL

-NFL merger. The Los Angeles Rams defeated the Atlanta Falcons 59-0 on Dec. 4, 1976.
The Patriots 59-point victory ties the largest margin of victory by any team since the 1970

AFL

-NFL merger, equaling the L.A. Rams' 59-point win over Atlanta on Dec. 4, 1976 (59-0).
The Patriots take it on the road next week - LITERALLY !!!! They will be playing the 0-6 Tampa Bay Buccaneers in....... LONDON !!!!!!! They sit atop the AFC East at 4-2 as the Jets got "booted" by the Bills... MAYBE the Patriots are back !!!!!!!!
Please allow me to at this time pray for the family and friends of
Jasper Howard
, UConn football player that played a key role in UConn's Homecoming victory over Louisville on Saturday. 20 years old and an expectant father, Jasper was stabbed to death Saturday night after that great game in a fight at the school's HOMECOMING dance... To the perpetrator of this horrible act, My buddy
Chris Mollo
's
Asshole Award
seems to fit....
Thanks for stopping in for a visit. It's just my opinion, so please

PAHDON

it. Y'all come back now, ya

heah

!!

Nuf

Ced