or...... SWEEEEEEEEEEEEEEEEEET (Caroline) !!!!!
It was a spectacle.... no wait... a SPECTACULAR night at the Fens last night !!!.. it was ALMOST a spactacle but NEVAH IN BEANTOWN !!!
Kudos to the Boston Red Sox baseball club for kicking off this 2010 campaign with some serious style and showmanship !!! Even Mother Nature must be a Red Sox fan handing out a gorgeous early April night in Beantown and climaxing the overall feeling of the event with a game time temperature of 69 degrees !!!! ok, it was only 67 but.... I'd hate to owe her 2 !!!!! well... um....
Fly-overs, fireworks, Pedro Martinez' (still looking for his daddy?) return to throw out the first pitch, a serious hottie singing our National Anthem...I couldn't even focus on the words... but I WAS standing at attention during her "inspiring" rendition !!!. even Johnny Pesky, tear-streaked, uttering those 2... um, 3, right Johnny??? immortal words.. "Let's PLAY BALL!".. hell even LeBron James, fresh off a Celtic spanking, and Dr. Dre were in attendance for this glorious event.. sorry "King".... THE HELL I AM !!!!!!!!! see yea in play-offs !!!!!!!!!!!!!
BUT despite the circus-like atmosphere of all these opening night ceremonies, it was a 5 year old that stole the show.. for me at least.. JOSHUA SACCO issued a soon to be classic version of the Herb Brooks' "Miracle on Ice" speech... check this shit out !!!!
You tell 'em kid !!!!!!!!!!! Apparently the Sox were in awe of that speech and couldn't recover from it's affects until the 5th inning.... more in a bit !!!
Anyway, Steven Tyler sang God Bless America during the 7th inning stretch with yet another hottie, um his girlfriend??.. more like Liv's friend
!!! SHAMOKIN !!!!!!!!!! God bless his 62 year old ass, but I kept thinking a little Joe Perry melody (or a bit of THC) to drown out Tyler's voice may have been easier on the ears... j/k Steve... still love Aerosmith, but apparently one man does not a rock group make !!!!
Even Neil Diamond, donning a "Keep the Dodgers in Brooklyn" jacket????? sang Sweet Carline LIVE... ok dude, but when in Red Sox Nation do as the Nation does... and burn that frigging jacket in effigy !!!!
Sox
ACE
.. despite what the the "armchair athletes" say.... Josh Beckett took the bump to open this 2010 season. Stick to your recliners boys and let the professionals start on opening night !!! Remember you are ARMCHAIR (wanna-be) Athletes !!! Wanna-be's... the worst critics around.. kinda like an ex-smoker preaching about quitting the nasty "habit"... But I'm not bitter at these guy's pre-season remarks... I'm STILL not sure what I wanna be when I grow up !!!! But, hopefully when they grow up, they'll understand about the intangibles and the finer aspects of the business that is our national past time.
But enough (or MORE) about losers !!! Beckett matched up against Mr Manboobs himself, C.C .....
although it's a toss-up for that title tween Sabathia and Joba the HUTT !!! Man boobs... BLECK !! I prefer THESE myself...
Now THAT's dedication to the Nation - wee doggy !!!
Circus over, the on-field fireworks began !!! although it appeared the Sox had blown their load (who wouldn't with that hottie singing on the BIG stage?) when shooting off their fireworks during the opening ceremonies.
Yup, it was the Yankmees supplying the spark for the first half of the game taking a 5-1 lead into the 5th inning. But THAT my friends is when CC Fatassia ran out of gas... whew, thank God too... have you seen what happens when CC has gas ?????
Not a pretty sight and certainly would have been a BUMmer last night !!!
ANYWAY !!!! Our boys reloaded and brought out the big guns midway (NOT the island!) through the contest !!! The "eruption" started in the bottom of the 5th frame. Garnering only one hit until that point, our boys strung together 3 singles to post a second tally on an RBI single by.... MARCO SCUTARO !!! Genius THEO !!!! and welcome to the Nation, Marco !!!
Despite leaving runners on second and third, the seed of a comeback had been planted.
On to the 6th... Pedey walked and VMart doubled the little guy to third... can you say YOUKAH !?!?!?!?
Youk tripled to right driving in two 2 runs.. wait, what??? did I just say Youkah tripled ???? Who'da thunk he could run 270 feet without stopping for a break.. AND one of his OWN burgers !?!?!?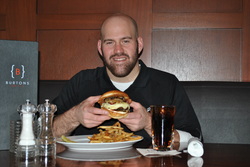 DeCAF !!!!!!!!!!! I think I can handle this one !!!! (hint, hint) geez that Beckett Burger was an ottoman !!!

Ok, Papi up but he splinters he stick... can you say BELTRE ?!?!?!? Adrian Beltre slams the first offering to center field driving in Youkah to knot it at 5 !!! And a Nation welcome to you too ADRIAN !!!!

On to the 7th... The EVIL Empire strikes back... grrrrrrrrr.. RamRam and Ut Oh Oki promptly give up 2 runs. Ok(i?) seriously... how the hell does a pitcher that allows two inherited runners to score... AND GIVE UP THE LEAD deserve to earn the victory ?!?!?!? Hey Hadeki... you owe Pedey dinner !!! Take him out for a Youk Burger !!!! (read on).

So, it was at this point that started receiving posts on my FB wall and calls from some Yankmee fan friends asking me what the score was. THANK YOU THANK YOU THANK YOU !!!! Obviously typical fans of the "Empire" gloating in short-lived success....

Apparently inspired (I know I was !!!) by Steven Tyler's rendition on God Bless America (or the hottie he was with), da da da da da... Scutaro singles (AGAIN) and Pedey stepped up to the dish... and launched all 5 feet 6 inches and 160 pounds into a high hard one and deposited that pill into the MONSTAH seats !!!!!! TIE GAME - 7-7 !!!!

But they weren't done yet !!! Youkah doubled, scooted to 3rd on a wild pitch and scored the go ahead on a passed ball by Pasada !!!! 8-7 and first and LAST lead of the night for the Sox !!! Oh, Whore Hey, stick to the... oh never mind !!!!!!

Danny Bard held the lead in the 8th... woo, at least PART of the bullpen came to play last night.. geesh !!!! and the Sox weren't done offensively manufacturing an insurance tally in the bottom of the 8th on a single by Mike Cameron, a walk by SCOOT and ANOTHER RBI by the "big" guy... PEDEY !!!

Paps came on in the 9th with visions of playoff ghosts dancing in his head - NOT an Irish Jig mind you !!!! Jigman wiped out all memories of playoffs past picking up his first of many saves to come capping this star-studded spectacular opening night of the 2010 Red Sox baseball season !!!

The Sox banged out 12 hits being led by Youkah's 2... yes, TWO doubles AND that triple and Pedey's big fly and 3 RBI.... Youk's gonna need this day off to recover !!!!

Also, the new Nation trio of Cam, Scoot and Beltre certainly made their induction profound... collectively going 5-9 with 2 walks and 3 RBI... WELCOME TO OUR NATION BOYS !!!! and who the HELL could have said that this offense would be lacking this yeah ?!?!?! musta been them damn Armchair Athletes !!!

Kudos to the schedule makers for giving us this day off to gloat in a great Red Sox victory.. one of many to come....

Next up, Jonny Lester leads the brigade against... um... yuck, bleck, phooey !!! The crybaby himself... A.J. Burnett... hmmm... A.J.... A$$HOLE JERKFACE !?!?!?!?
Thanks for stopping in for a visit. It's just my opinion, so please PAHDON it. Y'all come back now, ya heah !! Nuf Ced